Our history
2016
Speed 2 – 50 mm, the flattest vortex shower trap
Speed 2 In response to rising expectations of shower tray manufacturers, Akces has introduced Speed 2 – the flattest shower trap available in Poland – only 50 mm with a hydraulic closure mechanism.
2014
Axus – a new line of chromed and stainless steel products
Changes in the construction material distribution market encourage us to introduce new products to our range. In addition to our own, we have decided to significantly expand our catalogue and add a new line of chromed, stainless steel products under the brand name Axus.
2008
Coflex – the first flexible reducer with shape memory
Increasing expectations of our customers have spurred our designers to develop a new and improved version of the Monoflex reducer. The result is a connector with adjustable length and shape memory – Coflex.
Akces introduces a modernised trademark whose style matches the company's marketing needs.
2005
Speed – Poland's first low-profile vortex shower waste
In response to the demand for shallow shower trays, we are the first company in Poland to introduce a uniquely flat vortex trap in the form of Speed. Its design is simple, offering incredible throughput and very small size – only 70 mm.
1999
Europe's first rat-proof flexible WC connector
We are the first manufacturer in Europe to introduce a flexible WC connector made of HDPE and featuring improved resistance to rodents and chemicals.
1991
The company and trademark of Akces is born
Akces established – 1991 The increasing demand for utility system materials after 1989 was the motivation behind the establishment of a separate company for sales and marketing purposes. In 1991, Karol Kubit, Stanisław Guzek and Henryk Kubalewski established another company – Akces. They choose a tricolour rainbow bridge as their symbol.
1988
Poland's first reducer tubes reducer tubes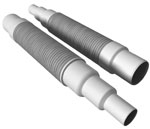 A breakthrough moment was the development of the first blow-moulded, monolithic flexible reducer tube in Poland and Europe. The main inspiration for the product were drinking straws. The product is currently sold under the name Monoflex.
1986
Introduction of sanitary systems
The next stage involved the production of our first pipe fittings and sewage pipes, as well as wall-mounted junction boxes. Acquiring the materials necessary proved extremely difficult. The food industry became our main supplier of raw materials (polystyrene and polypropylene production waste).
1982
Our first plastic products
Akces starts to deal in toys, small household appliances, school supplies, etc. Our hula-hoop and the "Dancing Daisy" garden sprinkler prove very popular with customers. The products were primarily sold at outdoor markets and fairs.
Plastic product manufacturing Stanisław and Karol Kubit modernised the Kosowo plant and established a company dealing in manufacturing plastic products.